Teaching Jobs in Madrid

Full time
---
Looking for teaching jobs in Madrid? Join our team!
We're hiring IGCSE, A-Levels and IB teachers for our Tutoring Academy and Sixth Form College.
About Think Ahead
Think Ahead Education is an international education group, born in the year 2016, specialized in teaching the British curriculum (IGCSE & A-Level) and the International Baccalaureate (MYP & IB Diploma) to students aged 14-18. During the past 5 years Think Ahead Education has helped hundreds of students and families to achieve their goals and obtain the best grades possible.
The group is divided into two main services which fulfill different educational needs at Think Ahead Academy or at Virtus, our Sixth Form College.

Think Ahead Academy
A private tutoring academy, imparting the British and IB curriculum to students aged 14-18.  Lessons take place during weekdays in the afternoons (17:15-19:15 or 19:15-21:15). There might be opportunities of teaching during the weekends if suitable and the teacher agrees with it. The majority of lessons take place in Alcobendas
Alcobendas: C/ Valportillo Segunda, 14
Madrid: C/ Henri Dunant, 17


Virtus
The 6th Form College of Madrid: we are a small and very personalized British school, only catering for the needs of a maximum of 30 A-Level students (these are the last two years of British secondary education). Students come to Virtus for two years, from 9:00 to 14:00 Monday to Friday, in order to complete their A-Level program and move on to universities throughout the whole world.
Alcobendas: C/ Valportillo Segunda, 14
What do we offer?
Salary: 22.5-55 euros/hour
You will teach small groups of students, allowing teachers to follow a personalised approach and focus individually on the strengths and weaknesses of each of your students
Contract type: "Autónomo" (Trade), although other types of contract can be considered if deemed appropriate
You will benefit from continuous training and support from our Educational Department, access to pre-made class materials, worksheets, exam information and training sessions
Opportunities of professional growth and development inside the organization
Financial advisement from our "Gestoría": "autónomo" monthly fees and other relevant financial information when needed
Social and team-building activities: work and live alongside an international team of outstanding teachers
What are we looking for?
We are seeking an ambitious, enthusiastic and well qualified graduate, with high expectations to become a full-time permanent teacher at Think Ahead Education. This job position applies to both Virtus and Think Ahead Academy, thus looking for a teacher that is willing to work with us full-time. We are looking for someone with a true passion for international education, capable of maintaining the necessary intensity and interest for their students and subjects throughout the academic year (September-June, both included).
At Think Ahead Education you will have the chance of working and learning from a cohort of young, talented and international teachers, with a true vocation for teaching and who are able to pass on their knowledge and passion to students and colleagues alike. Teachers and staff from 8 nationalities work together to make sure every student that is taught on our premises experiences the "Think Ahead way" of doing things, creating a unique experience regardless of the subjects they are being taught.
We teach the following subjects:
Qualifications and Skills
Bachelor's degree or equivalent, related to the subjects you can teach
+2 years of teaching experience
Native or excellent English speaking and writing skills
Excellent creative, communication and presentation skills
Engaging personality and teaching style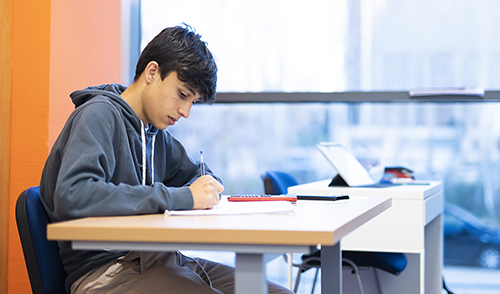 Responsibilities and Duties
Weekly face-to-face lessons, in a fixed schedule in our premises (max. 5 students/group for Think Ahead Academy lessons, 6 students maximum for Virtus groups)
Full commitment towards our teaching method and an understanding that our priority is to become an institutional reference in the British and the International education sectors
Plan, evaluate, and revise curriculum, course content, and course materials and methods of instruction
Prepare course materials such as syllabi, homework assignments, and handouts
Evaluating student performance whilst maintaining an attendance record
Interested?

Apply Now!
Fill in the following form and don't forget to attach your CV. You can also apply to this job offer by sending your CV to
info@thinkaheadeducation.com
.